Maximum Performance For All Liquid Filtration Needs
Submicron to 2,000 Micron Filtration
Wide Range of Styles and Media
Multi Cartridge, High Pressure, Low Pressure and Duplex Housings
Barway provides a full line of brand name and high quality replacement filters and housings for all liquid filtration needs. This includes pleated filter cartridges, wound tubes, resin bonded filters, spun bonded filters, wire mesh filters, depth cartridges, strainers and bag filters. Expert advice is available on the liquid filtration applications for fuels, hydraulics, coolants, lube oil, coatings, chemicals and water.
Wide Range of Cartridge Styles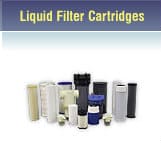 Barway cartridges are designed to provide the most economical solution for a wide range of liquid filtration needs. They are available in all sizes and types to meet any liquid filtration process with end cap configurations and cores to accommodate all standard housings.
Barway offers a wide range medias to meet your specific application. Our medias feature micron ratings from submicron to 2,000 microns and provide excellent particulate removal with extremely low pressure drop over a wide range of temperatures. For increased filter life and maximum performance washable medias are available to meet most liquid filtration applications.
Housings to Meet Any Application
Barway provides expertly crafted cartridge housings to meet any liquid filtration process. Multi cartridge, high pressure, low pressure and duplex housings styles are available to meet your specific application. Materials of construction include 304 through 316 Stainless Steel, Carbon Steel, Aluminum and Polypropylene.
Please refer to Filter Cross Reference Search Tool for a complete listing of Liquid Filter Cartridges.