Barway Corp now offers Liquid Filter Bags. We offer every size and micron we have available (.5 to 200) in Polyester, Polypropylene, and Nylon. The prices you see below are per bag and must be ordered in a minimum quantity of 25 pieces each. All bags below come with a handle and a carbon steel plated ring. Other ring types available are Stainless Steel (SS), Polypropylene (PP), Drawstring (T), Polypropylene flange (P), or no ring/raw (R). Please inquire here if need one of these rings for current price and availability.

**All info below is approximate and should only be used as a guide, you should conduct your own tests to ensure best results**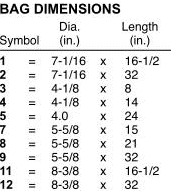 Each part numbers consists for a series of numbers and letters designating what you are looking for:PE5P2S
In the above example, the first two letters are the designation for the material makeup. In this case, the PE means Polyester.
PE5P2S
The 5 is the designation for micron rating and in this case it is a 5 micron
PE5P2S
The next set of letters/numbers is relevant to the size of the bag. A P2 bag is approx. 7 x 32 inches
PE5P2S
The last letter is for the style of ring, the S means a standard Carbon Steel Ring and sometimes you may see an SH where the H means a handle or SL meaning same thing. But all of our bags come with a lift handle and can be removed if you do not want them.
You can click the price on the chart below to view additional info and ADD them to your cart. Price is EACH and min of 25 pieces each style. Some bags are in stock, most ship in 7-10 days — contact us to check exact availability.