Hydraulic and Oil Filters
Maximum Protection Means Less Down Time
1 to 200 Micron Retention Rates
Cellulose, Micro-glass and Stainless Wire Mesh Media
Wide Range of Styles
Barway provides brand name and high quality replacement hydraulic and fuel oil filters to meet the increased performance demands of today's hydraulic systems including cartridges, spin-ons, breathers, in line and return line filters.
We can help you choose the filter that will meet all your requirements for cleanliness, high capacity, performance, reliability, filter life and economy.
Medias to Meet Specific Applications
Barway offers four filter medias which offer the optimum reliability in a wide range of temperatures with retention rates from 1 to 200 microns. This enables you to choose the media that is most effective for your specific application.
Cellulose is an inexpensive media suited for light duty applications.
Micro-glass has much better dirt holding capacity and can last up to 4 to 5 times longer than cellulose. It provides the ultimate cleanliness and has superior fluid compatibility with hydraulic fluids, synthetics, solvents, and high water based fluids. Improving fluid cleanliness provides more reliable equipment, less down time and reduced equipment maintenance costs.
Water Removal Micro-glass has the same features as our Micro-glass media, but offers the advantage of removing small traces of water which significantly increases performance and equipment life in hydraulic and lube systems.
Stainless Wire Mesh is a washable media which is suitable for heavy duty applications with higher micron retention rates.
Filter Styles to Meet Every Application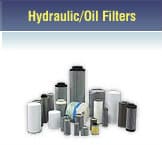 Barway offers high quality replacement filters that meet or exceed the performance requirements of brand name, domestic and international OEM filters including:
Hycon/Hydac
Internorman
Pall
Parker
Puralator/PTI
Textron
Vickers And may others
Please refer to Filter Cross Reference Search Tool for a complete listing of Hydraulic and Oil Filter Elements.