Maximum Performance and Long Filter Life
Cartridges, Bags and Tubes
Cellulose/Polyester and Spun Bond Media
Wide Range of End Cap Configurations
Barway provides the full range of original and replacement dust collector filter cartridges, bags and tubes to meet the dust collection needs of any industry that requires clean plant air. Our Dust Collector Filter Elements are available in all styles, medias, end cap configuration and provide maximum performance over wide temperature ranges.
Barway will help you choose the filter that will work the best, the longest and will make your job the easiest for your specific application. Even our paper filters are 80% cellulose and 20% polyester to provide exceptional performance in a lower cost filter.
Media to Meet Your Specific Needs
Cellulose/Polyester is an 80/20 blend designed to provide greater moisture resistance, longer filter life and lower pressure drop than a standard paper filter.
Cellulose/Polyester Fire Retardant media is the same as our standard 80/20 blend, but has been specifically designed for application where sparks are a concern.
Spun Bond Polyester is a superior filter media which outperforms and outlasts any paper media on the market today. This media requires no inner pleat supports, unlike some others with supports that obstruct up to 25% of the air flow, and the outer screens are eliminated to provide even air flow across the media. Spun Bond Polyester is an almost indestructible washable media that provides an increased flow rate, better dirt retention and a greatly improved filter life.
Spun Bond Hydroscopic is a water resistant media with the same exceptional features as the Spun Bond Polyester media.
Original or High Quality Replacement Filters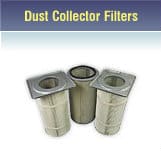 Barway offers a complete line of replacement filters for dust collection that meet or exceed the brand name or original OEM filters performance specifications. High quality replacement filters are available for:
All OEM Filters
Donaldson
Farr
Nordson
TDC
Torit
Wheelabrator
Many others
Please refer to Filter Cross Reference Search Tool for a complete listing of Dust Collector Elements.