A wide range of applications rely on industrial air filters to remove contaminants from the air and improve overall air quality. At Barway, we manufacture a variety of top-quality replacement air filters as well as maintain an inventory of OEM and major brand name filters. Our filters offer superior service life and performance, providing optimum protection for air handling equipment such as engines, vacuum systems, turbines, blowers, and compressors.
Provide Maximum Protection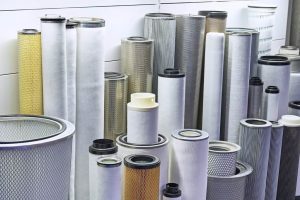 In addition to distributing most major brand name and OEM filters, Barway manufactures a full line of superior replacement air filters including automotive, HVAC and HEPA filters.
Barway's air filters are unsurpassed in performance and filter life; they provide maximum protection for compressors, blowers, turbines, vacuum systems, engines and all other air handling equipment.
Barway air filters are designed to meet or surpass the most stringent requirements for long life, superior air flow, high particle retention and highly effective seals.
The standard element frames are sturdily constructed of carbon steel; stainless steel and galvanized steel are also available. Both faces of the radial fin are supported by woven wire, and the unit cores are perforated steel to retain strength for the life of the filter and minimize seal failure.
Wide Choice of Filter Medias
Barway offers many different filter medias that remove contaminates as small as 0.3 microns up to 200 microns and provide exceptional performance over wide temperature ranges. Barway filter medias include:
Polyester
Paper
80 / 20
Fire Retardant
Screen
Spun Bond
Others to meet specific applications
Three Filter Styles to Meet Your Specific Application
Sewn End Style has a rugged perforated steel core which is attached to pleated woven wire. The filter media covers the frame and end gaskets.
Molded End Style also has a sturdy perforated steel core. The filter media is pleated between two layers of woven wire. The core and pleated media is then sealed at both ends with a vinyl rubber seal.
Metal End Cap Style is similar in design to the Molded End Style except the core and pleated media is covered at both ends with a metal end cap.
Please refer to Filter Cross Reference Search Tool for a complete listing of Air Filter Elements.
Three Filter Styles to Meet Your Specific Application
Industrial air filters help improve air quality for a wide variety of applications. If you need a reliable industrial air filter for your application, we offer some of the best filter products available on the market. We carry a selection of filters from the leading brands in the industry, or we can manufacture a custom filter to your specifications.
For help finding the right filter with Barway, request a quote from us today.